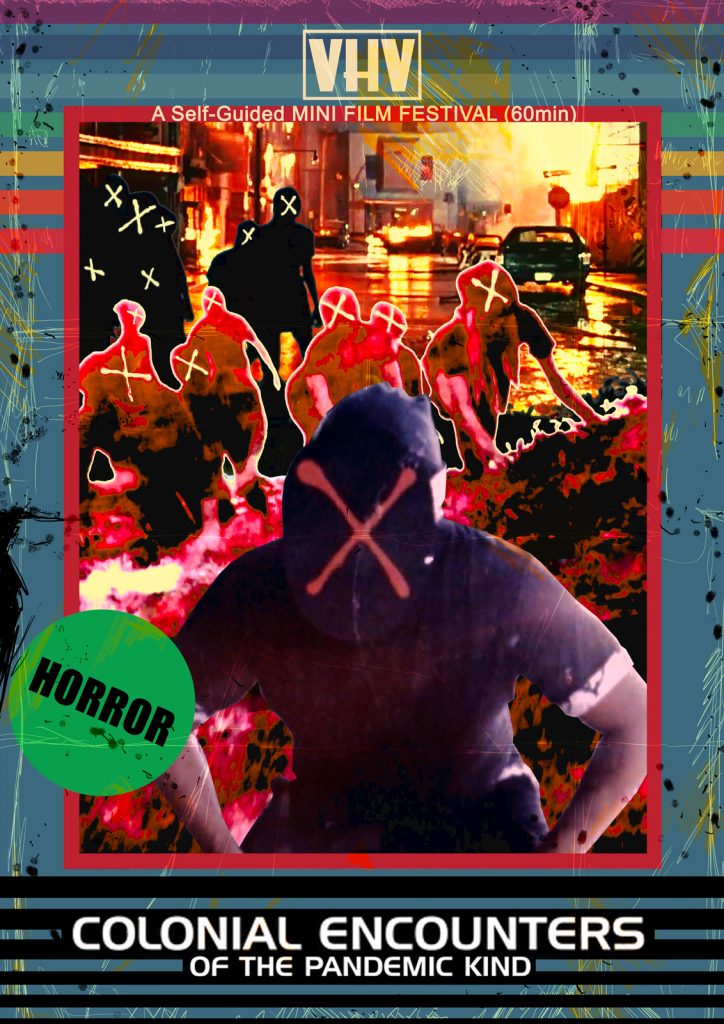 "Colonial Encounters of the Pandemic Kind" is a series of short films publicly available online programmed by Clayton Windatt as an offering to both the Wawasayg Film and Media Arts Festival and the Fabulous Festival of Fringe Film in response to our current climate. This self-guided "film festival" follows Windatt's recent programming explorations, making minimalist offerings and building on previous programming as both an expansion and recontextualization of ideas in pandemic times. As the world continues to change and shift, the context of viewing repositions the viewer to consider new conditions and reconsider previously viewed works, allowing ideas to be reignited into current space.
Colonial actions have taken place over many generations and within many land masses including the one called "Canada". In a world where we have begun to use the term "decolonization" as a buzzword that can mean almost anything, "Colonial Encounters of the Pandemic Kind" is an offering specifically intended to explore the connecting points between people within a pandemic mindset. The promotional design references the horror genre not to define each of the included works as horror, but instead to add a context of terror and trauma to the subject of colonization in general. There are obvious horror-based or triggering images within several of these works, but this does not mean that the filmmakers necessarily identify their work as part of the horror movie genre.
Viewing works online replaces the gathering of peoples and can add to isolation behaviour which works against exchange and sharing. As a curator, Windatt seeks opportunities that include "self", often taking on artistic roles within the projects they produce as an act of collaborating and sharing. This decision addresses attempts at a holistic view of engagement where including self is an offering of adding artistic and/or "curatorial" voice. This is more a community-relational context of inclusion to the subject matter explored and less about major organizational behaviour or structural considerations. Concepts such as "conflict of interest" are rejected in this scenario, as Windatt never compensates themself for artist fees when participating in their own projects yet stands with artists in sharing statements.
This program is a self-guided online journey as a series of contemporary arts films, documentary, shorts, and performative works all created by Indigenous artists sometimes with non-Indigenous artists as collaborators. This program is designed to provoke as an act of education regarding Indigenous relationships, as well as invoke emotions of humour, care, joy, pain, loss, sadness, and an optimism in collective futures as relationships could, can, will be better someday. Included works create contrasts between many people, art forms, statements while referencing both current and historical relationship dynamics, encouraging the viewer to position "self" in relation to the world we all live within. When watching please consider health, relationships, and power dynamics that are playing out on a daily basis within our collective "shared society". All people have intersecting points between each other across distances both ideological and geographic. Some distances are greater than others, yet we can always make an effort to reach out and share.
COLONIAL ENCOUNTERS OF THE PANDEMIC KIND
A Self-Guided MINI FILM FESTIVAL (75min)

Mobilize – Caroline Monnet – 2015 – 3:33 min
Hailing from Outaouais, Quebec, Caroline Monnet is a multidisciplinary artist whose work has garnered international exposure and acclaim. Monnet, who is of French and Algonquin ancestry, uses visual and media arts to explore complex ideas around Indigenous identity and bicultural living through the examination of cultural histories.Having studied Sociology and Communication at the University of Ottawa and the University of Granada in Spain, she pursued a career in visual arts and films. Her work has been programmed internationally at the Palais de Tokyo (Paris), Haus der Kulturen der Welt (Berlin), TIFF (CAN), Sundance (US), Aesthetica (UK), Palm Springs (USA), Cannes Film Festival, Museum of Contemporary Art (Montreal), the National Art Gallery (Ottawa), the Montreal Museum of Fine Arts and the Whitney Biennal.

Unearthing Secrets, Gathering Truths – Jules Koostachin – 2020 – 3:17 min
Born in Moose Factory Ontario, Jules was raised by her Cree speaking grandparents in Moosonee, and also with her mother in Ottawa, a warrior of the Canadian Residential school system. Jules is a band member of Attawapiskat First Nation, the Ancestral lands of the MoshKeKo AsKi InNiNeWak. She resides in Vancouver with her family. She completed her PhD with GRSJ at the University of British Columbia, her research MooNaHaTihKaaSiWew: Unearthing Spirit focuses on Indigenous documentary. In 2010, she completed her masters at Ryerson University in Documentary Media where she was awarded the Award of Distinction for her thesis work, as well as the Graduate Ryerson Gold Medal for highest academic achievement. While in graduate school, she produced her first feature documentary film Remembering Inninimowin regarding her journey of remembering Cree. After graduation, Jules was one of six women selected for the Women in the Directors Chair program at the Banff Center, where she directed a scene from her feature script Broken Angel. Her script was selected for the TIFF's filmmaker lab, as well as the Whistler's Screenwriting lab where she worked with Dennis Foon. She is also part of the Blackmagic Collective Breakthrough Initiative in LA. Jules' company VisJuelles Productions Inc. has a number of films and other media works in development. Her television series AskiBOYZ (2016) co-produced with Big Soul Production is currently being aired on Aboriginal Peoples Television Network (APTN) in both Cree and English. In 2017, she released her documentary NiiSoTeWak: Two Bodies, One Heart and her second CBC short OshKiKiShiKaw: A New Day was released in the spring of 2019. Her third award winning documentary KaYaMenTa: Sharing Truths about Menopause was released in the summer of 2020.  Over the years, she has released a number of other films/projects including Butterfly Monument (2017) about her relation, the late Shannen Koostachin with co-director/producer Rick Miller. Her award-winning narrative film OChiSkwaCho premiered at imagineNATIVE Film + Media Arts Festival and screened at several other festivals worldwide.  Jules is in pre-production with her next narrative short MisTik and her feature drama Broken Angel. Jules was the Indigenous Storyteller in Residence with the Vancouver Public Library where she further developed her poetry. Her first book of poetry Unearthing Secrets, Gathering Truths (2018) was published with Kegedonce Press, as well as her memoir Moccasin Souls (2021). Jules is represented by The Characters in Vancouver, and recently she is the voice of Layla (Mom) on the new PBS Kids/CBC Kids animated series Molly of Denali. Jules is also represented by Lucas Talent for writing and directing. She carries extensive knowledge working in Indigenous community in several different capacities and these community experiences continue to feed her advocacy and her arts practice.

Portrait in Motion – Nadia Myre – 2002 – 2:23 min
Nadia Myre is an indigenous and quebecois artist from Montreal who is interested in having conversations about identity, resilience and politics of belonging. A graduate from Camosun College (1995), Emily Carr (1997), and Concordia University (M.F.A., 2002), Myre is a recipient of numerous awards, notably Compagne des arts et des lettres du Québec (2019), Banff Centre for Arts Walter Phillips Gallery Indigenous Commission Award (2016), Sobey Art Award (2014), Pratt & Whitney Canada's 'Les Elles de l'art' for the Conseil des arts de Montréal (2011), Quebec Arts Council's Prix à la création artistique pour la region des Laurentides (2009), and a Fellowship from the Eiteljorg Museum (2003). Recent accomplishments include Balancing Acts (Textile Museum of Canada, 2019), Code Switching and Other New Work (Glasgow International, 2018), Tout ce qui reste / Scattered Remains (Montreal Museum of Fine Art, 2017), Decolonial Gestures or Doing it Wrong? Refaire le chemin (McCord Museum, 2016) and commissions for new work: Dans l'attente… | While Waiting… (Ville de Montreal, 2019), Oceanus Procelleum (Zuecca Project 'Volume 0', Venice Biennale, 2019), Tree of Shifting Forms (Canadian Embassy in Paris, 2018), the Quebec Room carpet design (2015) for Canada House in London, England (with Karen Spencer), Orison (galerie Oboro, 2014), Formes et Paroles (Musée Dapper, Senegal, 2014), and Sakahàn (National Gallery of Canada, 2013). As well as having participated in international biennales (Glasgow 2018, Shanghai 2014, Sydney 2012, and Montreal 2011), Myre's work has featured in prominent group exhibitions such as Changing Hands 3 (Museum of Art and Design, New York, NY), Pour une république des rêves (CRAC Alsace – Centre Rhénan d'Art Contemporain, Altkirch, FR), Le temp du dessin (Ensemble Poirel, Nancy, France), Vantage Point (National Museum of American Indian National Mall, Washington, DC), It Is What It Is (National Gallery of Canada), and Femmes Artistes. L'éclatement des frontières 1965-2000 (Musée national des beaux-arts du Québec, QC). Her work has received accolades from the New York Times, The Washington Post, and Le Devoir, and has been featured in ARTnews, Canadian Art, Parachute, American Craft, C Magazine, and Monopol. Her works may be found on permanent exhibition at the Montreal Museum of Fine Arts, National Gallery of Canada, Musée National des Beaux-Arts du Québec, Canadian Museum of History, and the Musée des civilizations (Quebec).

The End of the World – Clayton Windatt – 2016 – 6 min
Clayton Windatt is a Métis non–binary multi-artist living and working between Sturgeon Falls and Toronto, Ontario. Clayton holds a BA in Fine Art from Nipissing University and received Graphic Design certification from Canadore College. With an extensive history working in Artist-Run Culture and Community Arts, and through their own activism, Clayton works towards healthier relationships for national and global Indigenous artists and communities. The former Executive Director of the Aboriginal Curatorial Collective, Clayton maintains contracts with several colleges and universities, arts magazines, arts councils, arts organizations, and other organizations as a critical writer, columnist and consultant in addition to pursuing their independent arts practice. Clayton is an active filmmaker and director with works featured in festivals such as ImagineNative and the Toronto International Film Festival and recent commissions by the National Film Board of Canada. Clayton works in/with community, design, communications, curation, performance, theatre, technology, and consulting, and is a very active writer, filmmaker and visual-media artist and was recently appointed to the National Gallery of Canada's Board of Trustees.

Sight – Thirza Cuthand – 2012 – 3:35 min
Thirza Jean Cuthand (b. 1978 Regina SK) makes short experimental videos and films about sexuality, madness, Queer identity, love, and Indigeneity, which have screened in festivals and galleries internationally. She completed her BFA majoring in Film/Video at Emily Carr University of Art and Design in 2005, and her MA in Media Production at Ryerson University in 2015. She has performed at Live At The End Of The Century in Vancouver, Performatorium in Regina, and 7a*11d in Toronto. She is a Whitney Biennial 2019 artist. She is Plains Cree/Scots, a member of Little Pine First Nation, and resides in Toronto, Canada.

Fanmagof – Dakota Camacho – 2020 – 3:33 min
Dakota Camacho believes in creativity as a record of interaction with the spirit realm. Exploring the overlap between integrity, ancestral/indigenous life ways, true love, and accountability, guiya (they) activate a Matao worldview to make offerings towards inafa'maolek (Balance and harmony with all of life). Weaving through languages of altar-making, movement, film, music, and prayer, guiya (they) generates moments of encounter with self, each other, spirit, and the natural world. Yo'ña (their) work enacts spaces where multiple worlds, ways of knowing, being, and doing speak to each other to unearth embodied pathways towards collective liberation.

Missing You – Clayton Windatt – 2020 – 1:14 min

Land Of the Silver Birch… Home of the Beaver… – Sara DeCarlo – 2011 – 3:45 min
Sarah DeCarlo is an Ojibway soulful singer/songwriter, musician and filmmaker from Peterborough, Ontario. Her films have screened at Optic Nerve, Image+Nation, Imaginenative and Weeneebeg Film Festivals.She has had a wide range of experiences working in First Nations communities in various capacities. For nine years she has worked with the Cree Nation of Wemindji located in Northern Quebec completing various contracts including proposal development, community development and as a youth arts and video animator.

Naked Island – Hipster Headdress – Amanda Strong – 2017 – 40 sec
Amanda Strong is an Michif interdisciplinary artist with a focus on filmmaking, stop motion animations and media art. Currently based on unceded Coast Salish territories also known as Vancouver, BC, Canada. Strong received a BAA in Interpretative Illustration and a Diploma in Applied Photography from the Sheridan Institute. With a cross-discipline focus, common themes of her work are reclamation of Indigenous histories, lineage, language and culture. Strong is the Owner/Director/Producer of Spotted Fawn Productions Inc. (SFP). Under her direction, SFP utilizes a multi-layered approach and unconventional methods that are centered in collaboration on all aspects of their work. Strong's work is fiercely process-driven and takes form in various mediums such as: virtual reality, stop-motion, 2D/3D animation, gallery/museum installations, published books and community-activated projects. Strong and her team at Spotted Fawn Productions are currently working on the research and development of bringing these works into more interactive spaces. Most recently she was selected by renowned filmmaker Alanis Obamsawin to receive $50,000 in post-services through the Clyde Gilmour Technicolour Award. In 2016 she received the Vancouver Mayor's Arts Awards for Emerging Film and Media Artist. In 2013, Amanda was the recipient of K.M. Hunter Artist Award for Film and Video. Her films have screened across the globe, most notably at Cannes, TIFF, VIFF, and Ottawa International Animation Festival. She has received grants from the Canada Council for the Arts, Ontario Arts Council, BC Arts Council and the NFB. Spotted Fawn Productions is currently developing new short animations Wheetago War and Spirit Bear. SFP's latest short animations Biidaaban (The dawn comes) Four Faces of the Moon and Flood are available online through CBC Short Docs and CBC Arts.

CREATURA DADA – Caroline Monnet – 2017 – 3:04 min

Path Without End – Christine Friday – 2019 – 10:45 min
Christine Friday, Temagami First Nation. Christine is a proficient resilient Indigenous storyteller. She began her career with In the Land of Spirits in 1992 and has maintained a professional dance career for over 29 years, choreographing, solo work, commissioned work, youth creations and full -scale productions. She is deeply connected to the cultural wellness of her people and works hard to maintain cultural traditions and gifts of her Anishinaabe people. Her company: Friday Creeations a film and stage Production Company, allowing her to transition her skills into filmmaking to broaden her audience while fulfilling her potential, as well as the development of a life-long dream of a Cultural Creation Centre based in N'Dakimenan -Our Homeland. She recently won the 2018 KM Hunter Award for dance through the Ontario arts council, this award is given to those who demonstrate an original artistic voice while encouraging the artist to propel to the next level. Her intention is to awaken people within themselves, creating a shift change in the world by reflecting reality and the human experience.

Biidaaban (The Dawn Comes) – Amanda Strong – 2017 – 19:14

ETAK : an [un]traditional Micronesian Navigation Chant – Dakota Camacho – 2021 – 2:50 min

Into Water – Cole Forrest – 2019 – 5:35 min
Cole Forrest is an Ojibwe filmmaker based in Toronto, Ontario. Originally from Nipissing First Nation, Cole strives for compassion and acceptance within the arts. Cole trained and honed his craft at the "Big Medicine Studio" while working with the group Aanmitaagzi. Cole has written and directed various independent short films that have been screened at film festivals including ImagineNATIVE, Toronto Queer Film Festival, and the Vancouver International Film Festival. Cole is a recipient of the Ken and Ann Watts Memorial Scholarship and of the James Bartleman Indigenous Youth Creative Writing Award. He is the 2019 recipient of the ImagineNATIVE + LIFT Film Mentorship, and a 2020 Artist in Residence as a part of the Sundance Native Filmmakers Lab. He is a graduate of the Video Design and Production program at George Brown College. Cole is currently developing his next short "Ozigwan". He is grateful to represent his community in all of his artistic pursuits.

Loved You to Life – Penny Couchie – 2020 – 5 min
Loved You to Life is a site-specific dance work, created and performed by Penny Couchie and Animikiikwe Couchie-Waukey on Nipissing Anishinaabe territory commissioned by Kahawii Dance Theatre for Mid-Winter Dreaming. Dancers: Penny Couchie, Animikiikwe Couchie-Waukey, Music: Bonnie Couchie, Videographer & Editor: Bradley Trudeau, Production Support: Sid Bobb.
NOTE: All films present in this self guided showcase are posted publicly by distributors or by the artists themselves with full permission. Digital licensing fees have been paid directly to the artists and licensing and dissemination agreements have been made for all content presented here.