Working with Craig and Zainub as artists and advocates has been an exceptional experience for me and I feel like we are only getting started. We had the opportunity to make work together discussing the language for this video installation for many days. The back and forth that took place between ourselves and several others was impressive as a communication exchange with a volume of effort from all parties. At least a dozen revisions went through each person's hands considering intention and word-choice to ensure that the finished statement reflected our shared intentions.
The resulting installation in the old H.E. Brown storefront now the ON THE EDGE Fringe Festival's offices was a great opportunity to present to my local community.
I am honoured to participate with Craig and Zainub present as part of this year's North American Basic Income Guarantee (NABIG) Congress and to present both arts and advocacy ideas there. Each year NABIG brings together researchers, activists, artists, and policy makers to focus collective expertise, experiences and energies towards a vision of a universal guaranteed basic income. This year's Congress will be held virtually with the focus Basic Income: Knowledge, Activism, Policy. Sharing alongside of those who are on the ground advocating and organizing movements and those setting policy for years to come is a huge opportunity for me and I am looking forward to it very much.
Join this session to hear three presentations on The Case for Basic Income and the Arts campaign in Canada. Here, panelists will discuss the creative process, unpaid work, cultural policies, lived experience, and the benefits that basic income could have for everyone, including artists, writers, technicians, and performers.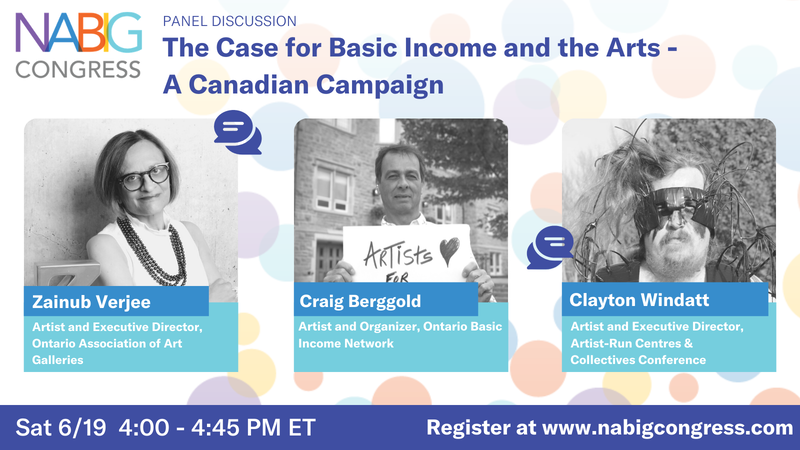 Panelists:
Craig Berggold, Artist and Organizer, Ontario Basic Income Network
Filmmaker and media artist Craig Berggold strives to combine social justice activism with a contemporary art practice. His award-winning films have been seen at festivals and galleries around the world. Craig is a key organizer for The Case for Basic Income and the Arts campaign highlighting how artists have lived precariously for decades, and asks: What is the route of escape for the radical imagination? #artists4basicincome @PrecariousAngel
Zainub Verjee, Artist and Executive Director, Ontario Association of Art Galleries
Zainub Verjee is an artist, writer, critic and arts administrator. Verjee has worked on key instruments of culture including Status of the Artist and UNESCO's declaration on cultural diversity. Central to her work are issues of labour, race, gender, diplomacy, cultural planning and cultural policy. She co-authored a letter to the Prime Minister for Basic Income Guarantee representing over 7500 artists and 300 organizations. In 2020 she was awarded the Governor General's Award in the visual and media arts for outstanding contribution. Currently, she is the Executive Director of Galeries Ontario / Ontario Galleries.
Clayton Windatt, Artist and Executive Director, Artist-Run Centres & Collectives Conference
Clayton Windatt is a curator, multi-arts performer and filmmaker living and working in Ontario. As the former Executive Director of the White Water Gallery, Aboriginal Curatorial Collective and current Executive Director of the Artist-Run Centres and Collectives Conference, Clayton has an extensive history working in Artist-Run Culture and Community Arts. Clayton maintains contracts with various governments, colleges and non-government organizations as a writer, consultant and knowledge broker negotiating between peoples, places and communities. Clayton works in/with community, design, communications, curation, performance, theatre, technology, and consulting, and is a very active artist.
If you'd like to learn more about the progress, pilots and policy supporting Basic Income in the last year make sure  to register for the weekend conference to see the full schedule here: https://www.eventbrite.com/e/19th-annual-nabig-congress-2021-june-17-19-2021-tickets-147319186653