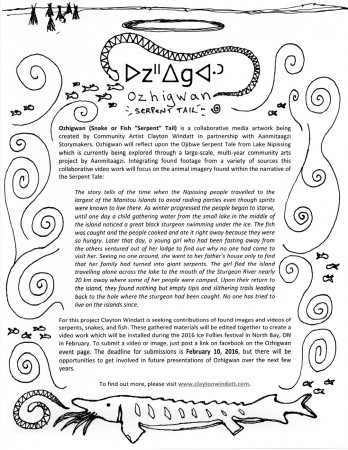 Ozhigwan (Snake or Fish "Serpent" Tail) is a collaborative media artwork being created by Community Artist Clayton Windatt in partnership with Aanmitaagzi Storymakers. Ozhigwan will reflect upon the Ojibwe Serpent Tale from Lake Nipissing which is currently being explored through a large-scale, multi-year community arts project by Aanmitaagzi. Integrating found footage from a variety of sources this collaborative video work will focus on the animal imagery found within the narrative of the Serpent Tale:
The story tells of the time when the Nipissing people travelled to the largest of the Manitou Islands to avoid raiding parties even though spirits were known to live there. As winter progressed the people began to starve, until one day a child gathering water from the small lake in the middle of the island noticed a great black sturgeon swimming under the ice. The fish was caught and the people cooked and ate it right away because they were so hungry. Later that day, a young girl who had been fasting away from the others ventured out of her lodge to find out why no one had come to visit her. Seeing no one around, she went to her father's house only to find that her family had turned into giant serpents. The girl fled the island travelling alone across the lake to the mouth of the Sturgeon River nearly 20 km away where some of her people were camped. Upon their return to the island, they found nothing but empty tipis and slithering trails leading back to the hole where the sturgeon had been caught. No one has tried to live on the islands since.
For this project Clayton Windatt is seeking contributions of found images and videos of serpents, snakes, and fish. These gathered materials will be edited together to create a video work which will be installed during the 2016 Ice Follies festival in North Bay, ON in February. To submit a video or image, just post a link on facebook on the Ozhigwan event page. The deadline for submissions is February 10, 2016, but there will be opportunities to get involved in future presentations of Ozhigwan over the next few years.