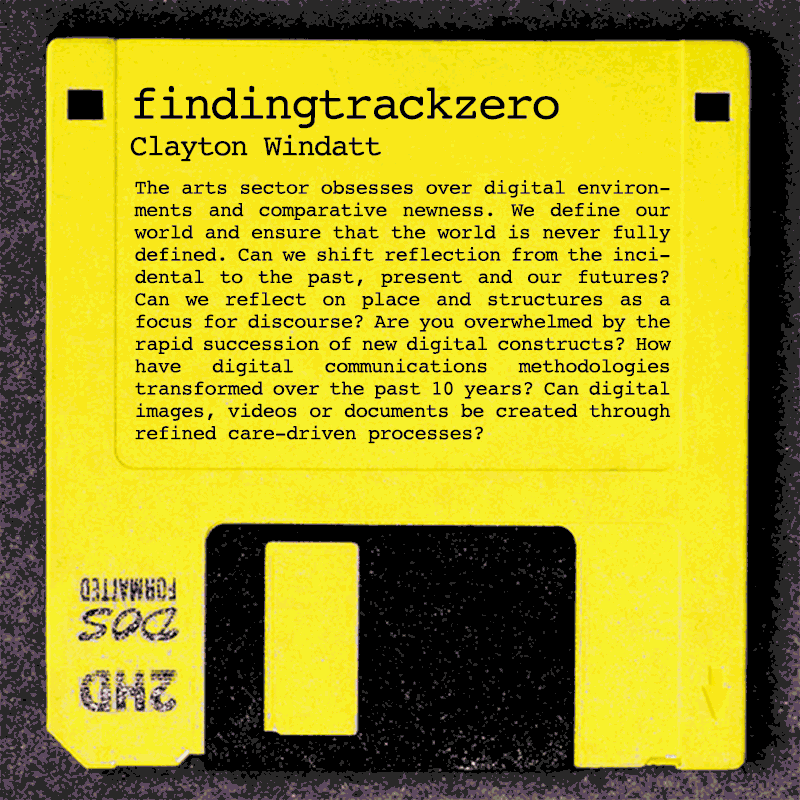 UPDATE: Working consistently as an artist during the COVID 19 pandemic, I have been making short animated art films. These films are each produced at radically low-resolution as a way of forcing low file size. I am working towards having a completely self-produced micro-film festival which should have a series of films totalling less than 25mb in size and publishable as a set of floppy disks. Here are a few samples posted as they are completed on my YouTube channels.
Current films:
"Hot Bugs" – 1:41 – 2020
"Everything will be alright" – 0:57 – 2020 – Silent
"Happy Endings" – 1:23 – 2020
"fire kids 2011" – 1:33 – 2020
"Missing You" – 1:14 – 2020
STATEMENT: findingtrackzero – The arts sector obsesses over digital environments; how people engage and how society responds to various changes, shifting attitudes and updating mannerisms. Much of the responsive behaviour within the arts comes from another long-standing obsession with comparative newness and an interest in both defining our world and an eagerness to ensure that the world is never fully defined. Reflections on place, structures and the past are considerations, but not often a focus for discourse as there is little room in a space where a rapid succession of new content can be overwhelming.
As an aging curator, Clayton Windatt shifts from looking at the incidental to discussions of the past, present and maybe the future, if there is time for that. This reflection takes shape as outreach, discussions and arts activations considering the structures within our digital era and how rapidly changing digital environments affect digital communications methodologies within the arts and towards the general public. The gathering of people through discourse connects both within and beyond the arts sector, fostering collaboration and establishing and renewing networks. All of these processes are documented through flexible magnetic storage media sealed in rectangular plastic enclosures lined with fabric that removes dust particles known as floppy disks.
Floppy disks were omnipresent during the timespan of Windatt's life with the exception of the past 15 years. As the most prominent format of digital data collection during this time, and with consideration of current technology and communication needs within arts, 3.5 inch disks are employed in this project. Through Mavica digital cameras and various PC computer systems from the 1980s, 1990s and early 2000s, documentation will be made in the form of digital stills and minor recordings each within the 1.44MB file size limit. This forces data collected to be refined with care and dissemination efforts to be specific as each digital image, video or document is created through technology that is incompatible with most technology today.
Traditionally, a disk can only be accessed through synchronizing its head into a set position with its disk tracks. This is accomplished with a sensor or by including an immobile reference surface on the drive. In either case, the track zero position of the disk is the beginning for all data writing processes. The resetting of this process results in the clicking and grinding noise emitted by floppy drives while they write and rewrite data.
This research-based, arts experimentation considers now-archaic digital technologies and how innovative approaches can be employed towards their usefulness today. During the 80s & 90s floppy disks were used to store computer operating systems which was the core structure of how digital interactions occurred. Naming the project "findingtrackzero" references the pursuit of core values within the arts especially when reflecting on technology, communications and the ever changing arts milieu which mirrors the rapid changes of the technological world. Exploring through small-scale activities with short timelines weaves a web of complex initiatives, building strategic digital knowledge and capacity in identifying challenges, issues and opportunities within digital environments.